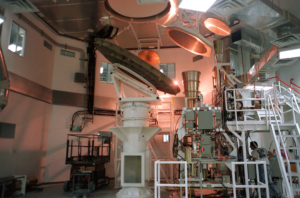 Earth Stations & Subsystems
 Bob Gough has been involved for over three decades in most aspects of both military and commercial earth stations, their subsystems and equipment.
Work carried out includes project management, study contracts, the preparation of technical and procurement specifications, proposal evaluation, management of equipment development contracts, earth station design, integration, commissioning and acceptance testing, star-tracking, fault-finding and trouble-shooting, training for suppliers and operations staff, ESVA testing and the execution of satellite in-orbit test programmes.
The types of earth stations involved include TT&C stations, traffic stations operating in all satcoms bands up to Ka-Band, dual-band earth stations, specialised facilities such as satellite in-orbit testing stations, propagation measurement stations and radiometers.
Projects have been carried out on large earth stations carrying traffic for whole countries, small business terminals, offshore oil rig terminals, fixed and transportable military earth stations, VSAT terminals, mobile terminals and TV uplink stations.
Bob's expertise extends to the detailed design and manufacture of earth station subsystems and equipment, such as VSAT terminals, digital modems, tracking systems and control & monitoring systems.
Details of specific experience and expertise can be found via the appropriate Experience links on the top menu bar.